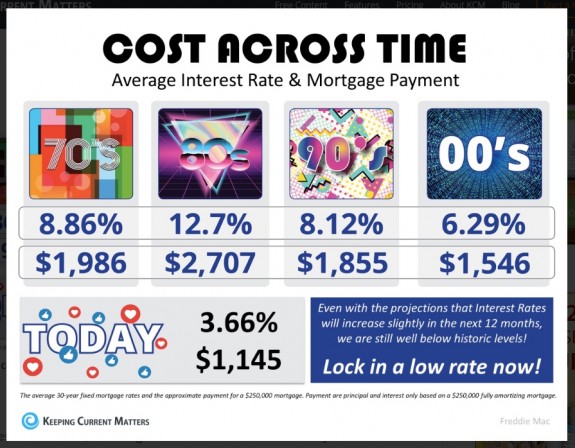 Will low inventory off-set seasonal savings homebuyers enjoyed in the past?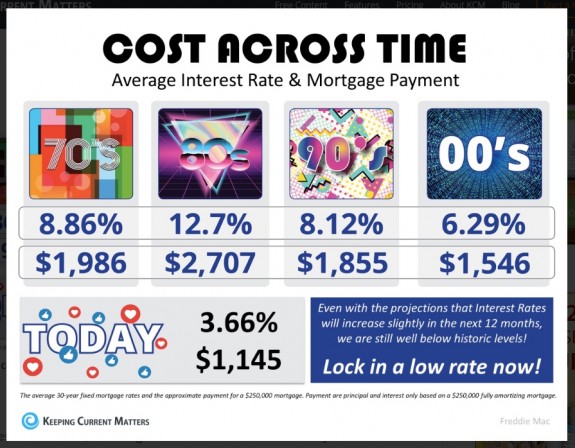 #REonTap = Discuss over beer:  Are interest rates above good news or bad news?  Will low inventory levels off-set seasonal savings homebuyers have enjoyed by timing the market?
In the past, nearly 1 in 5 homes offered accepted between Thanksgiving and New Year's across Massachusetts resulted in homebuyer savings of at least 10% off the original asking price.  As the housing market enters it's traditional "slow-season," let's talk about two alternative scenarios this weekend at #REonTap:
1.  Will near-record low-interest rates make savings opportunities even greater because of reduced monthly payments (see image above), or
2. Will low inventory of homes for sale and record-low mobility rates offset seasonality denying homebuyers the bargaining power they once enjoyed?
Background
Artificially low-interest rates continue to bloat purchasing power, or as Realtors like to say, increase the "Affordability Index."  KCM (Keeping Current Matters), a content creation service for real estate professionals, has taken it upon themselves to "Bust the Myth about Housing Affordability" by publishing images like the one below and cherry picking stats without any context for potential risks (see excerpt from Instagram):
Lower rates have also increased the buying power for prospective homebuyers looking to purchase the average-priced home by the equivalent of 15%."
In isolation, the stat above sounds compelling until one begins asking questions about the potential risks of bloated purchasing power as the economy approaches the end of an economic cycle.  Invite those questions over beer or add you to one of @RealEstateCafe's virtual roundtables where we're asking if the Boston housing market has already reached a 
#RETippingPoint
.  There you'll find links to demographers and economists independently urging buyers to future-proof homebuying decisions against a possible recession and inevitability of the Great Senior Sell-Off:
http://bit.ly/SrSellOff
 (share via social media)
#REonTap = Informal conversations over beer where local residents can exchange perspectives, share insights and apps they're using to save money on real estate.  Willing to meet this weekend at Cambridge Common Restaurant, text 617-661-4046 to suggest a time that works for you or follow #REonTap on Twitter.
Links to share with friends via social media related to this weekend's topic:
Holiday homebuyers: 1 in 5 homes sells for at least 10% off, expect more this year!