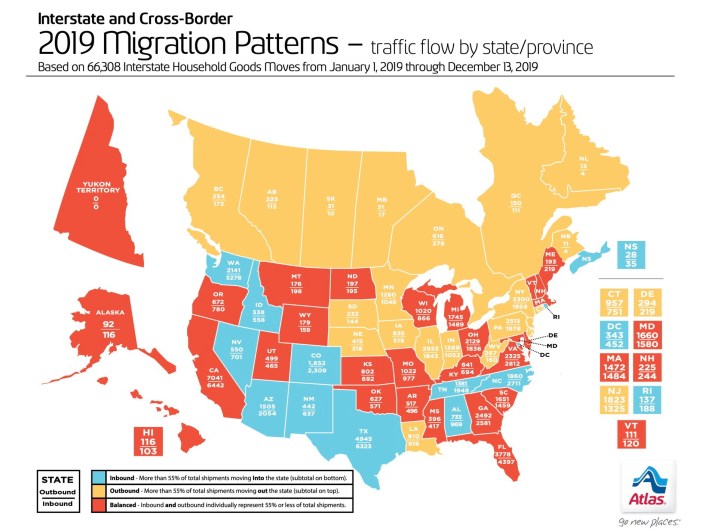 Where is America Moving?
According to their annual Migration Patterns report, Atlas Van Lines said, in 2019, 26 states registered as balanced (moves in & out were roughly equal), 13 as outbound, and 11 as inbound.  Interestingly, their data also showed an overall decrease in moves from 2018 to 2019.  Atlas has annually conducted the Migration Patterns study since 1993 which tracks the nation's interstate and cross-border (U.S. to Canada) moving patterns as reflected in moves handled by Atlas Van Lines.
Top 10 Inbound States (including DC):
Idaho (62.3%)
Washington (60.5%)
North Carolina (59.3%)
New Mexico (59.0%)
Tennessee (58.5%)
Rhode Island (57.8%)
Arizona (57.7%)
Alabama (56.9%)
District of Columbia (56.9%)
Texas (56.1%)
Top 10 Outbound States:
New York (62.7%)
West Virginia (62.5%)
South Dakota (61.7%)
Illinois (61.4%)
Louisiana (59.6%)
New Jersey (57.9%)
Delaware (57.3%)
Nebraska (56.6%)
Indiana (56.5%)
Connecticut (56.0%)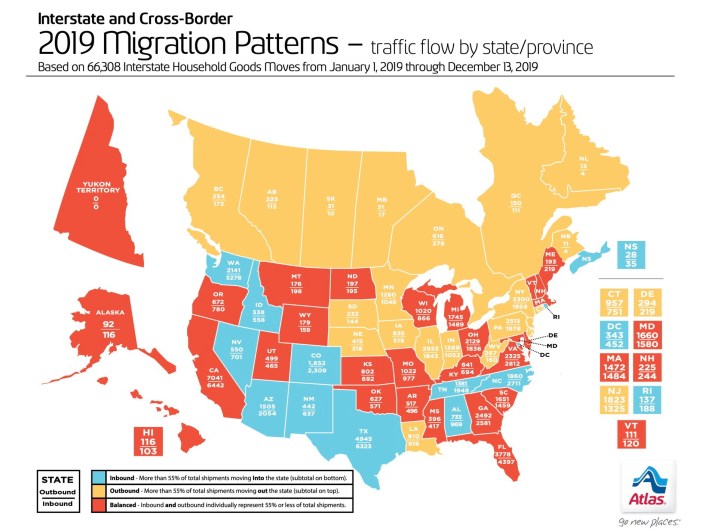 Click here to read the full report at Atlas van Lines.
The post Where is America Moving? appeared first on Real Estate Investing Today.