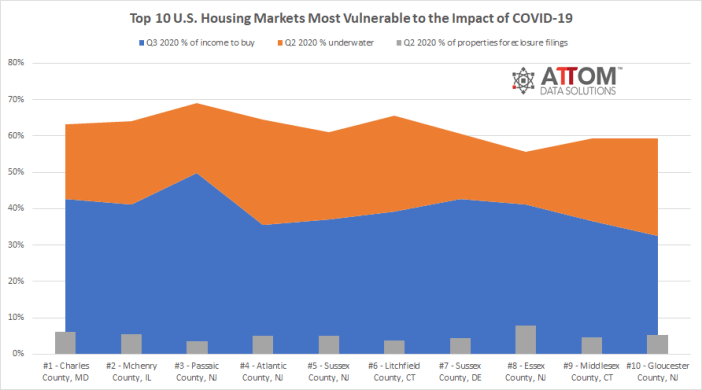 Top 10 Housing Markets Most Vulnerable to Pandemic's Impact
What are the top 10 housing markets most vulnerable to COVID-19's Impact?  In a recent special report,  ATTOM Data looked at the U.S. housing markets that are more or less at risk of an economic impact related to the Coronavirus pandemic.  Their findings showed that pockets of the Northeast and Mid-Atlantic regions were the most vulnerable in Q3, while the West and Midwest fared less risk.  Interestingly, the counties least at-risk were concentrated in Colorado, Indiana, Missouri, Texas and Wisconsin  Indeed…
"The U.S. housing market continues to show remarkable resilience during a time of widespread economic trouble and high unemployment stemming from the virus pandemic. But amid continued price gains, pockets around the country face greater risk of a fall, especially in and around the Northeast," said Todd Teta, chief product officer with ATTOM Data Solutions.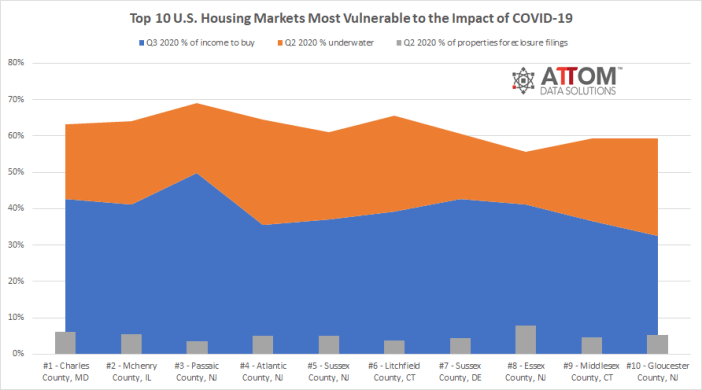 Click here to read the full report at ATTOMData.com.
The post Top 10 Housing Markets Most Vulnerable to Pandemic's Impact appeared first on Real Estate Investing Today.