Foreclosure Activity Continues to Increase Despite Moratorium
According to their Q1 2021 U.S. Foreclosure Market Report, ATTOM Data says, despite moratoria, there were a total of 33,699 U.S. properties with foreclosure filings in the first quarter of 2021.  While this figure is down 78% from one year ago, it does represent a 9% increase from Q4, 2020.  In addition, there were 11,880 U.S. properties with foreclosure filings in March 2021.  Again, while down 75% from one year ago March's number is up 5% from February.  Properties foreclosed in Q1, 2021 had been in the foreclosure process an average of 930 days, up 8% from Q4, 2020 and up 38% from one year ago.  Indeed…
"The foreclosure moratorium on government-backed loans has virtually stopped foreclosure activity over the past year…..But mortgage servicers have been able to begin foreclosure actions on vacant and abandoned properties, which benefits neighborhoods and communities. It's likely that these foreclosures are causing the slight uptick we've seen over the past few months."  Said Rick Sharga, executive vice president of RealtyTrac, an ATTOM Data Solutions company.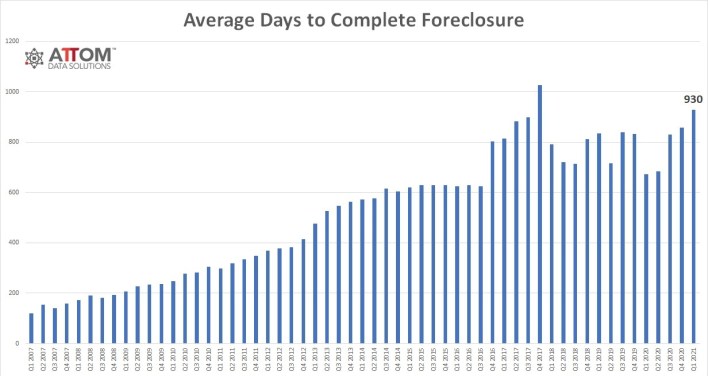 Click here to read the full report at ATTOMdata.com.
The post Foreclosure Activity Continues to Increase Despite Moratorium appeared first on Real Estate Investing Today.