Equity Trust is supporting the investing efforts of NREIA chapter members
EQUITY TRUST

Another National REIA Strategic Partner Benefit
Equity Trust – one of the nation's largest custodians for self-directed IRA's with 330,000 clients and over 30 billion in assets!

When you Join Boston REIA, members are eligible to receive over $700 in FREE products and services including:

$99 Self-Directed IRA for 1-full year regardless of account value: Open a new self-directed IRA with Equity Trust and pay just $99 maintenance fee for 1-full year ($205 minimum value)

Complementary National REIA Gold Level Service Membership: 1-year membership includes a dedicated point of contact and priority processing ($249 value)

Free Wire Transfers: Two certificates for FREE expedited processing and two certificates for FREE investment wire transfer ($210 value)

Digital Download of the #1 Ranked (on Amazon) book – Self-Directed IRAs – Building Retirement Wealth Through Alternative Investing: Showcases diversification strategies that will change the way you think about retirement investing and could change the course of your retirement forever ($14.95 value)

Two Free Wealth Building Workshop Tickets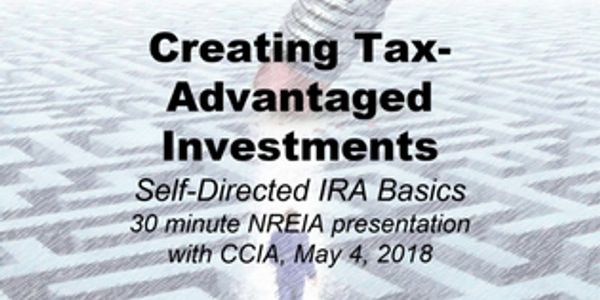 Webinar
While self-directed IRAs continue to grow in popularity because of the potential tax-advantages and ability to invest in both traditional and alternative investments, many people are just becoming aware of this powerful wealth-building tool.

In this Webinar Replay, Equity Trust's National Brand Ambassador, Roberta Hudy will provide a 101-level presentation on what a self-directed IRA is, how it works and the potential advantages it may provide for investors and retirement savers.

Roberta will reveal:

How a self-directed IRA is different from other IRAs

The potential tax advantages, including the difference between a Traditional and Roth IRA

Examples of Equity Trust clients investing with self-directed IRAs

Plus, a free educational resource for people looking to get started