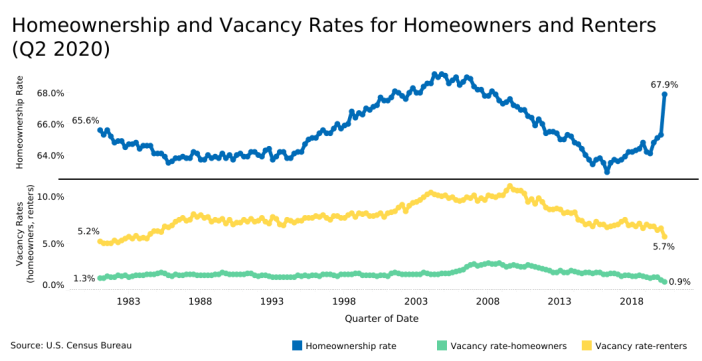 Breaking Down the Homeownership Rate's 12-Year High
Last week we posted the numbers from the Census Bureau's Residential Vacancies and Homeownership report.  Armed with that data, the number crunchers at the National Association of Realtors' Economist Blog took a deep dive into those numbers and broke them down to get a better look.  First off, America's homeownership rate increased to 67.9% (up nearly 4 percentage points from one year ago) which they say is partially attributable to low mortgage rates, however there is more….
Some key findings:
Q2 2020's homeownership rate was 67.9%, up from 64.1% in Q2 2019 and up from 65.3% in Q1 2020.
The homeownership rate among the ages 35 to 44 increased 4.9 percentage points during Q2 to 64.3%. This age group experienced the highest gains in Q2.
All regions saw an uptick in homeownership rate. The South was the region with the highest gains in homeownership, where it climbed to 71.1%.
Black homeownership rates continue to increase, elevating their share of households living in owner-occupied units to 47%. Specifically, Black households experienced the highest gains in homeownership rates among any other race.
Households with incomes below the national family median saw increases in their homeownership rate as well – which the NAR says "is a very promising indicator for the real estate market."
Both rental and homeowner vacancy rates dropped ­in spring showing how strong housing demand is during the pandemic.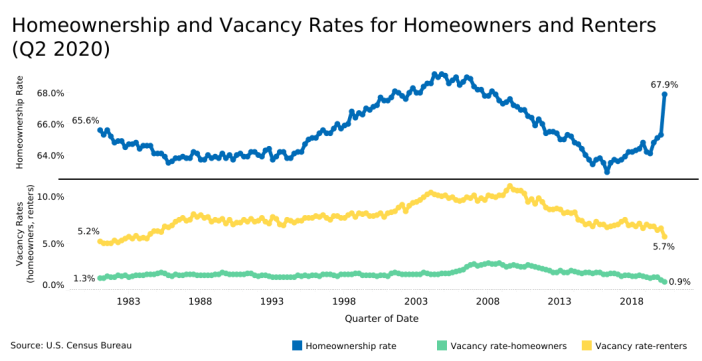 Click here to read the full report at the NAR's Economist Outlook.
The post Breaking Down the Homeownership Rate's 12-Year High appeared first on Real Estate Investing Today.